Inventory does NOT have to bleed the profit and life from your store. Learn how to ensure you stay in the black with smart, data-driven decision making.
Easier said than done, right? Let's explore how you can use inventory management tools and strategies to optimize your biggest investment.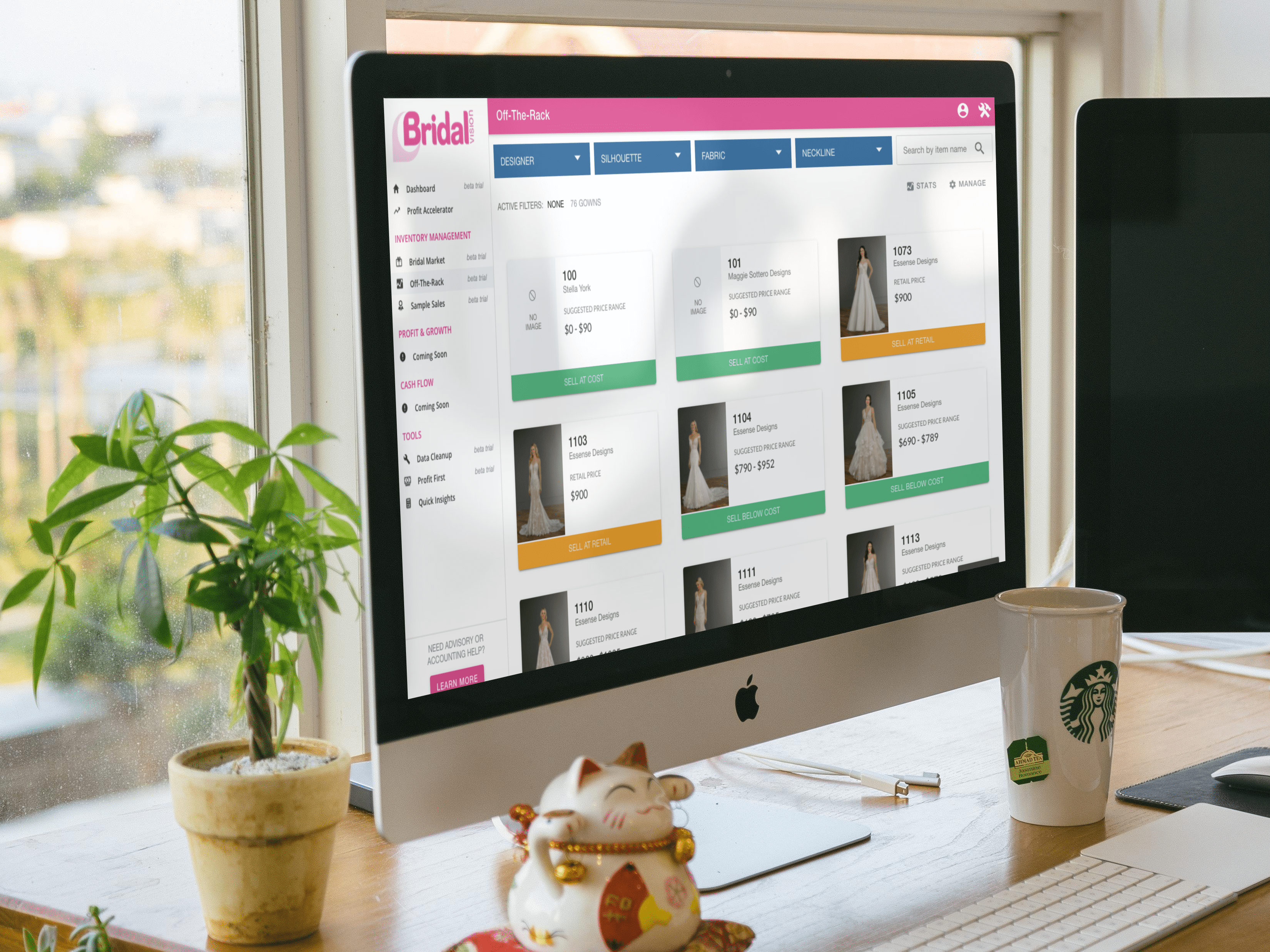 Inventory Management Tools for Bridal Shops Key Takeaways:
Inventory is the single largest expense for bridal shops.
Emotions often cloud judgement when it comes to making profitable decisions.
It is important to set an annual inventory budget that gives your store room for growth, but does not accrue unnecessary debt.
Inventory management tools are ideal for solving common inventory challenges. This includes budgeting and profitable buying at bridal markets, as well as strategically phasing out obsolete inventory through off-the-rack and sample sales.
A thriving bridal store requires smart inventory management and profitable buying.
Inventory is the single largest expense for bridal shops. Less than optimal inventory management is often the cause of poor cash flow, spiraling debt, low owner pay, and many other common bridal store struggles.
Key Challenges With Inventory Buying and Decision Making
Before we jump right into how to make better inventory management decisions, it's important to understand why bridal stores sometimes struggle with inventory.
Emotional Buying
Do you buy based on emotion, or based on the data?
As is the case with many important decisions, it's easy to get caught up in the emotional aspect of buying gowns for your bridal shop. Emotions can cloud your judgement in a few different ways:
Pressure from designer sales reps to meet minimums.
Buying wedding dresses based on what YOU love, rather than what your brides will love.
Purchasing gowns based on what other store owners say their brides are buying.
Overbuying out of fear of not having enough.
Focusing on your competition instead of on your own brand.
Basing your largest investment on any of the above factors is clearly not a recipe for success, and yet it's too easy to get caught up in the high of bridal market. So why don't more store owners make inventory decisions based on the data?
Crunching the Data
Compiling and cleaning up your store data, let alone understanding what it all means, would require some serious spreadsheet magic that most shop owners don't possess. And even if you did, it's not something that you should (or would want to) spend your precious time on.
Both emotional trip-ups and data-crunching barriers can be solved using bridal store software tools, which we'll explore. First, let's cover some basics behind setting an inventory budget.
In order to build a business that can sustain profitability over time, it is imperative to get crystal clear on your inventory budget. A few tips when setting your budget:
Tip #1: Set your market budget annually based on what your business can afford. This is different for every business. Be careful here: it's not just a percentage of sales that can be applied across the board for every shop. Context matters!
Tip #2: Divide your annual budget between each market so that you are working backwards from your available cash.
The budget should be high enough so that you're able to invest in growth, but not too high that it will force you to accrue unnecessary debt.
Think maximums-to-minimums, not the other way around. In other words, let your budget determine how many designers you carry. And, only carry the designers that are performing at the highest level for your store.
When you are carrying the right number of designers, and when you are choosing high performing gowns, you can afford their minimums. In this way, data-driven buying powers sustainable business relationships up and down the supply chain.
To sum up what we've covered, your inventory spend should be based on your budget, your margins and performance of each designer/style, and how well they fit into your collection.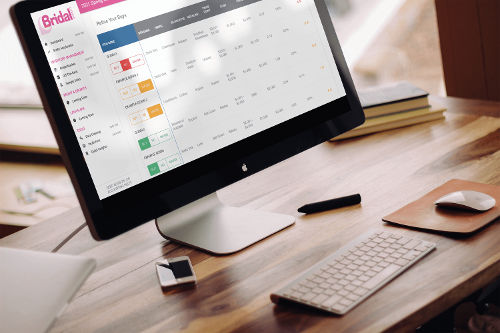 You don't want to buy gowns based on a hope and a prayer, but you also don't have hours and days to pore over thousands of data points. So what is a bridal store to do?
A software tool takes the guesswork out of inventory management decisions by analyzing and interpreting inventory and sales data. The end result is saved time and increased profits.
Instead of basing inventory decisions on emotions, designer minimums, and back of the envelope guesswork, a software tool will take your store data and give you the clarity you need to make profitable decisions.
At a high level, this includes buying where you have gaps in inventory and can predict high performance, and avoiding purchasing dresses that you already have in stock.
When it comes to inventory management, bridal shops are special—a one size fits all tool isn't likely going to help. This is why we at BridalVision have spent years building a method for data-driven inventory management specifically for bridal shops.
Bridal store inventory management is different from other businesses that carry inventory. That's why the BridalVision Inventory Management Suite includes three main tools:
Bridal Market Tool

: Most bridal stores base their inventory budgets and buys around Bridal Market seasons. The challenge is knowing what to buy, when, and why. The Bridal Market Tool crunches your data and helps you create a Buy Sheet focused on increasing the return on investment of your inventory.

Off-the-Rack Sales Tool

: Phasing out obsolete inventory on an ongoing basis is difficult. Never miss an opportunity to match a next-month bride with a just-in-time gown.

Sample Sales Tool

: Use aging and sales data to quickly build and export a list of exactly what to include in each sale. Price the gowns using BridalVision's suggested pricing to maximize profitability and ensure that your samples are fresh and on-trend.
In the next lesson, we'll cover a complete analysis of what software you need to run a profitable bridal store.